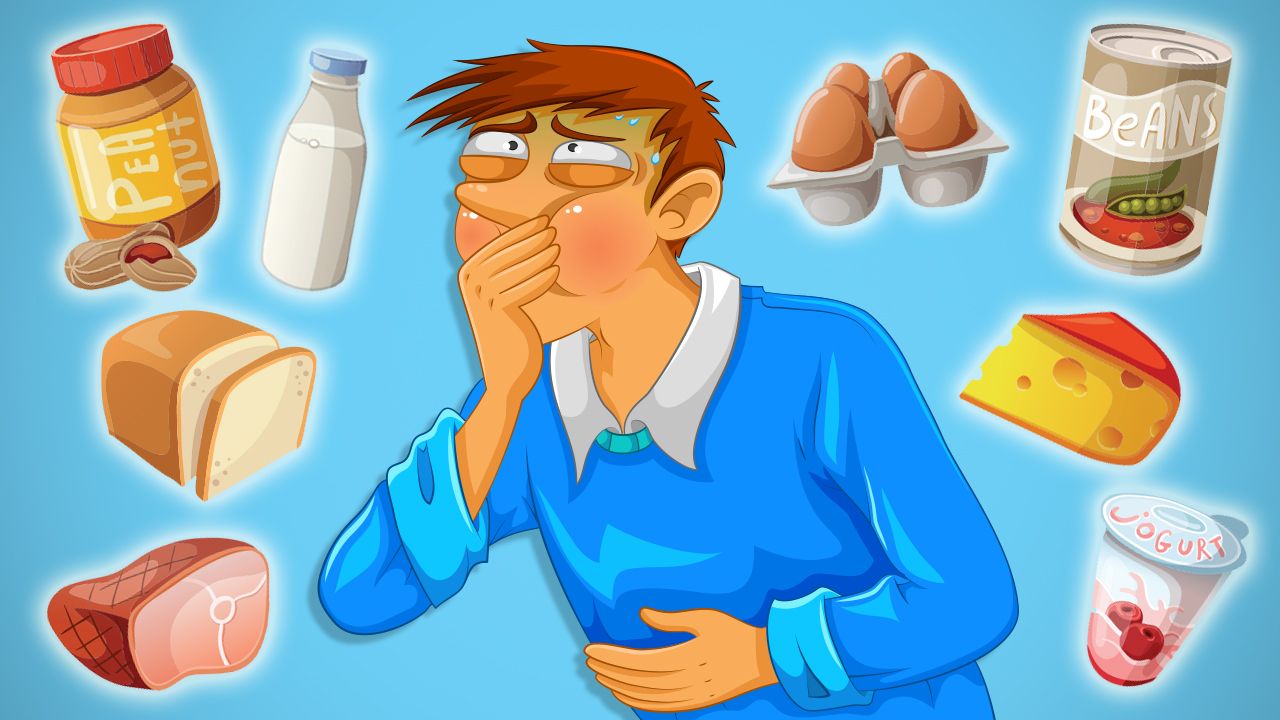 Food Allergy or Food Sensitivity … what is the difference?  There is a lot of confusion surrounding the topics of allergy vs sensitivity in the foods we eat and many people use these terms interchangeably.  Although both can significantly affect your health, they are different.  They cause different reactions in your body and we need to understand these reactions before they can be effectively treated.
Food allergies have been a common topic for decades as they affect almost 7 in every 100 Canadians.  The most common of these being the peanut allergy affecting over 1.3 million Canadians, mostly children under 3 years of age.
Food sensitivities have only begun to gain exposure over the past few years.  They are highly under-diagnosed yet are significantly impacting the health and wellbeing of many people, adults and children alike.  The main reasons why food sensitivities are highly under-diagnosed is two-fold:  firstly, many don't know that there is a difference between an allergy and a food sensitivity, and secondly, because mainstream medicine only recognizes and tests for allergies.
Let's begin by understanding the difference between a food allergy and a food sensitivity.
Both an allergy and a sensitivity is a reaction that causes our immune system to react to a specific food item by releasing cells that are called antibodies.  These reactive food items that cause antibodies to be released are referred to as antigens or allergens.  A food reaction will cause one of two types of antibodies to be released:  IgE (immunoglobulin E) or IgG (immunoglobulin G).  The main difference between an allergy and a sensitivity lies in which type of antibody is produced and how quickly the symptoms occur.
A food allergy is caused when IgE antibodies are released in response to a food item and the reaction is immediate.  A food sensitivity is caused when IgG antibodies are released and the reaction is delayed.
WHAT DOES THIS ALL MEAN?
A Food ALLERGY causes an IMMEDIATE reaction caused by IgE Antibodies
An allergy causes a reaction within minutes of eating a specific food.  Once the body is exposed to an allergy, our body has the ability to remember what the allergens looks like.  It will then keep a supply of IgE antibodies ready for immediate release in the case it sees that allergen again.  This is why you may have stronger symptoms each time you are exposed to or consume a food that you are allergic to.
The most well-known food allergy is the peanut allergy.  Most parents are aware of this widespread allergy, either through their own child being affected or through the fact that they are no longer allowed to pack a peanut butter sandwich in their child's lunch.
What symptoms are caused by a food allergy?
An itchy skin rash (hives, eczema), tingling of the tongue or throat, constriction of the throat, coughing, wheezing, nausea, vomiting and diarrhea.  On rare occasions, an allergy can cause more serious reactions as in anaphylaxis.  Anaphylaxis is the most sudden and severe reaction to a food and can involve the skin, lungs, digestive tract and heart.  It is a life-threatening medical emergency and requires immediate attention.
How can a food allergy be tested?
Food allergies can easily be tested by a skin-prick test or a blood test and can be done by your Naturopathic or Medical Doctor.
A Food SENSITIVITIY causes a DELAYED reaction caused by IgG Antibodies
A sensitivity to a specific food may take hours or days to develop and this is why they are so difficult to determine without any form of testing.  When you have a food sensitivity reaction, the IgG antibodies attach to the food (antigen or allergen) and creates an antibody-antigen complex.  Under normal conditions, theses antibody-antigen complexes are removed from the body by special cells called macrophages.  But if these complexes are produced in large quantities and you are still eating the food causing the reaction, the macrophages just can't keep up and are not able to remove all of the complexes.  These complexes then begin to collect and are deposited in body tissues where they cause inflammation leading to a variety of diseases and health conditions.
What symptoms are caused by a food sensitivity?
Fatigue, lethargy, eczema or other skin rashes, behavioural problems (such as ADHD, hyperactivity and anxiety), upset stomach, picky eating in children, bloating, gassiness, bedwetting in children, dark circles under the eyes, inflammatory conditions (such as asthma, arthritis), headaches, migraines, and recurrent infections (especially of the ear, nose and throat).
How can a food sensitivity be tested?
Food sensitivities can easily be tested in your Naturopathic Doctors office by a finger prick test and/or by a blood test.
Dr. Renée most often performs an RMA FST test provided by Rocky Mountain Analytical, a laboratory facility in Calgary. This is a simple finger prick procedure that she does in her clinic.  The results will identify which foods are problematic for you.  Knowing the foods you react to is the first step to achieving better health.  She will then help you to interpret your results and develop an individualized treatment plan to help you remove these foods and heal your digestive system.
How long will it take before I notice a difference in my symptoms?
Once you've received your results, the first step will be to completely remove the foods that are causing a reaction in your body.  For many people, once the foods are removed from their diet they will see an improvement of symptoms within a few weeks.  That being said, for others it can take some time and the reactive foods may need to be removed from the diet for a minimum of 4-6 months before improvement is seen.  For some, removing the foods can initially result in withdrawal symptoms, such as headaches, tiredness, irritability and hunger.
I did the food sensitivity testing, removed the foods and I still don't feel better?
This may be because you also have a "Leaky Gut" and removing the offending foods may just not be enough.  If you have leaky gut syndrome, the lining of the digestive system must also be healed in addition to the foods being removed to see any improvement. Leaky gut is caused by inflammation of the gut lining and can be caused by food allergies or sensitivities, abnormal gut flora, stress, certain medications, and alcohol.  A leaky gut will allow more food particles to leak into the bloodstream and come into contact with food-specific immunoglobulins.  If you have a leaky gut, your test report may show multiple food reactions to foods regularly eaten.
If I have a food sensitivity, does this mean I can never eat this food again?
Dr. Renée will help you decide when is the best time to re-introduce a food that has caused a sensitivity into your diet again.  When this re-introduction is done, it is recommended to consume only modest amounts every fifth day.  When a reactive food is consumed, the IgG levels will rise but because levels should be already low due to avoidance, the rise in IgG shouldn't be enough to cause symptoms.  If this is the case, you can consume this particular food every 5 days.  In some people, re-introduction of a reactive food may reproduce symptoms each time it's consumed and for these people, it may be necessary to permanently avoid the reactive food.
In health,