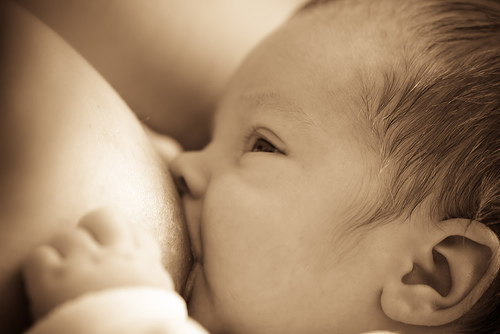 Breastfeeding really is an art … it's a dynamic relationship between a mom and her baby. It takes two to create this art perfectly and both play an important role. It's an art that for some, may take a while to master. Moms learn from other moms and from her baby. A baby is always born with an innate ability to breastfeed and the mom must provide the right environment to allow the baby to perform this new skill.
When I neared the end of my pregnancy I read and watched all that I could regarding breastfeeding. I was going to breastfeed, there was not a doubt in my mind. But what I didn't know, was how difficult it was going to be. It was going to be one of the most challenging things that I had ever done and it was going to be a true test of my determination, my motivation and my deep desire to breastfeed.
When my daughter was first born, she latched immediately. And for the days following in the presence of our doula and midwives, we had no apparent problems (or so I thought). But when the dust settled, and it was only my husband, my daughter and I at home … the problems began. I just couldn't get her to latch properly and so began the cycle of fear and anxiety, difficulty latching, painful, cracked and sore nipples, low milk supply and as a result, a daughter who wasn't gaining enough weight.
In every spare moment I had, I frantically googled and researched "How to latch a baby to the breast".
I wish I knew then what I know now. You need to understand the basic principles of latching a baby, you need to trust their innate instincts to latch and you need to experience and practice this over and over again.
Breastfeeding should not hurt and it should be an enjoyable relationship. Feelings of pinching of the nipple can be normal in the beginning as the nipple stretches, but this should not be described as painful and it should be short-lived. If breastfeeding is painful, you need to improve your baby's latch.
SO … HOW DO YOU CORRECTLY LATCH A BABY TO THE BREAST?
PROVIDE SKIN-TO-SKIN CONTACT
Create the perfect environment! Skin-to-skin contact creates a cocoon or a pouch for mom to envelop her baby. Place your baby, naked, on mom's bare chest and cover your baby's back for warmth. The closeness to her baby causes a hormone, called oxytocin, to be released in mom's body allowing her chest to become warm, her nipples to become erect and creating a calmness in both mom and baby. Skin-to-skin contact provides an environment that triggers the baby's innate response to seek the breast and latch.
 You can now purchase skin-to-skin shirts making it more convenient to provide this nurturing environment even when friends and family are visiting.
What effects does Skin-to-Skin contact have on the baby?
Regulates their body temperature
Regulates their heart rate
Increases oxygen levels in their blood
Reduces the hormone, cortisol, which is elevated if baby is stressed
Reduces crying
Regulates blood sugar levels
Stimulates self-latching to the breast and coordinated suckling
Is Skin-to-Skin contact only important at the beginning?
Skin-to-Skin contact is very important in the beginning and I encourage you to continue for as long as possible to avoid any breastfeeding problems until the breastfeeding relationship is well established.
Reconsider skin-to-skin contact at any time while breastfeeding if mom or baby experience any difficulties, such as:
Difficulty latching or not latching
Low milk supply
Baby all of sudden begins refusing the breast
Interesting Fact!

Full term babies that spend 50 minutes or more in skin-to-skin contact after birth are 8 times more likely to breastfeed on their own than infants who were not in skin-to-skin contact.
LEARN YOUR BABY'S EARLY FEEDING CUES
Many women are recommended to feed according to the clock (in example, every 3-4 hours and/or to feed for a certain amount of time). All women have different amounts of milk in their breasts (and in each breast) and not all babies receive the same amount of milk per feed. The recommendation of feeding according to the clock is not good practice. Rather, learn your baby's feeding cues.
The best time to feed in your baby is when he/she shows that he/she is ready to feed. If early cues are ignored, baby may become agitated and begin crying, this will make latching much more difficult and the baby will more than likely feed poorly.
What are early feeding cues?
Subtle body movements  In example, wiggling
Hand-to-mouth movements with or without sucking on hand
Mouthing and sucking motions with the mouth
Rooting when face is touched
Pecking, head bobbing or thrusting when in the arms of mom
ENSURE PROPER POSITIONING FOR MOM & BABY
Baby's chest should be touching mom's body with nothing in between
Skin-to-skin contact is always best!
Support your baby's back between his/her shoulder blades
Support the head and neck and make sure they are aligned with the spine
Never hold the back of the baby's head at any time during positioning, latching and feeding
Make sure your baby lines up to where your breast naturally falls so that he/she can reach for the nipples own his/her own (often we have baby positioned too high)
Mom must be sitting comfortably and feel relaxed
ACHIEVE A GOOD LATCH
What does a good latch look like?
Baby's chest and body are in contact with mom's abdomen
Mom is supporting the baby's back with her hand and wrist
Baby will display rooting actions and will have a wide relaxed gape (mouth)
Baby will extend neck and tilt his or her head back (often the baby's head is flexed with his/her chin to the chest – this makes it very difficult to achieve a good latch. Check out the tip below)
Baby's chin will contact and indent mom's breast
Baby's bottom lip will contact bottom part of areola away from nipple
TIPS!
Most of the bottom part of mom's areola is in baby's mouth, while the top part of areola is almost completely visible
Nipple slips just under baby's top lip
Baby's mouth is open wide and his/her lips are flanged outwards
Baby's head must be in line with his/her body and slightly extended
Try swallowing water when your head is either turned to one side or when your neck is flexed (chin towards your chest) … it's difficult right? Isn't it much easier to drink when our head is in line and slightly tilted back? This is the position you want your baby to be in.
Baby must be well latched to prevent nipple damage. The latch must be wide and deep.
Suck on your own thumb. Try placing your thumb only midway into your mouth and suck, then move your thumb to the back of your mouth and suck. Can you tell the difference in the effort required to keep your thumb in place in both positions and the different tongue actions needed? Wouldn't it be much easier to suck if the nipple was at the back of the mouth?
How do I know if we have a poor latch?
Mom will experience pain while feeding, damaged nipples (but not always), not all milk will be drained from the breast and milk supply may begin to reduce
Baby will not receive enough milk, may get tired easily during the feed, not be gaining weight, and may fail to thrive
All of which could possibly lead to early weaning
Good positioning is key to a good latch. And a good latch is key to successful breastfeeding!
If you have any questions, don't be afraid to seek help.  Here are some great resources from my World Breastfeeding Week Post.
Happy Breastfeeding!
In health,